Years 3 to 6
---
Ensuring that all students have an excellent grounding in literacy and numeracy is our top priority. Our girls enjoy differentiated reading, spelling, writing, oral communication and mathematics programs which support individual student needs.
Delivering an engaging Science Technology Engineering Mathematics (STEM) program and a wide range of thought-provoking Inquiry Learning projects is also a focus in our Junior School.
Our Scientist-in-Residence program affords all students an opportunity to learn alongside a qualified scientist in our purpose-built science laboratory. Our goal is for students to enjoy STEM learning from an early age.
Exploring the world's Sustainable Global Goals is at the heart of our Inquiry Learning projects. The projects take learning beyond the classroom and our students partner with local community action groups, such as Friends of Trigg Bushland Reserve, to address important environmental issues.
The following learning assets underpin everything that our students experience at school:
Communication
Collaboration
Self-Management
Thinking
Research
Connection
Setting out to save the world
As part of the St Mary's Junior School learning experience, our students are encouraged to engage critically with social and environmental issues beyond the classroom. Every year, St Mary's Year 5 and 6 students explore the world's Sustainable Development Goals by undertaking a series of Global Competencies Project-Based Learning Inquiries. Below is an account of our Year 5 students' journey of discovery.
Student-led conservation
Recently, one of our Year 5 classes embarked on an ambitious pollution inquiry in a bid to influence policymakers' approach to solving the United Nations' Sustainable Development Goal 14: Life Below Water.
At the beginning of the year, the class was asked to investigate a global environmental issue and they chose to explore how they could help reduce plastic pollution in the ocean.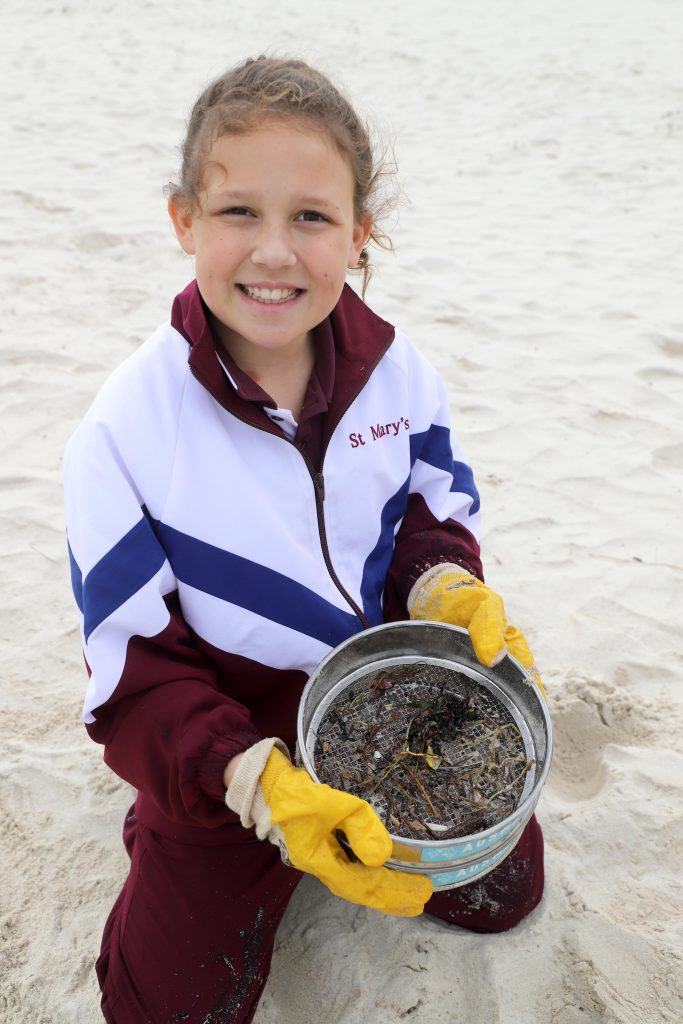 A framework for understanding
Teachers prepared for the project by participating in a 20-week course to further their professional development under the guidance of local and international education experts.
Guided by their teachers, the students established a framework for their inquiry, learned how and why plastic is made, and researched the global impact of ocean pollution.
They documented their research journey on a variety of digital platforms, including PowerPoint, iMovie and an online blog, while penning their inquiries more traditionally in formal letters to Federal and State politicians.
Community engagement
The Year 5 girls then put their research into action by teaming up with environmental scientists and volunteers from the Mullaloo Beach Community Group to collect and test sand samples for evidence of microplastics at Mullaloo Beach.
They collaborated with St Mary's scientist-in-residence, Dr Tabitha Yngstrom, to analyse the samples and send their data to the Australian Microplastic Assessment Project, a national citizen-led science study.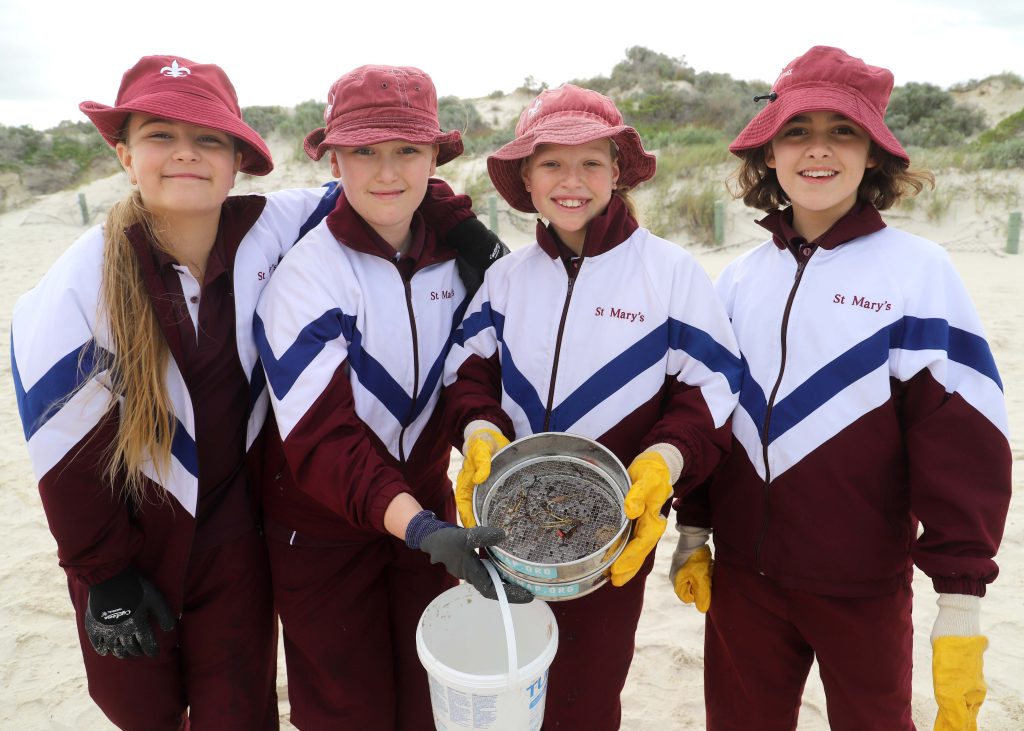 Sparking critical thought and change
"By involving our students every step of the way, from research to action, we believe they'll gain a much deeper understanding of the issue at hand," the Year 5 teacher said.
"We hope these girls will become advocates of change who not only alter habits in their own households but positively influence others in the process."
---
Specialist programs – something for everyone!
Our specialist learning programs are taught by specialist teachers who are not the classroom teacher.
Each specialist teacher is extremely knowledgeable and passionate about their subject, which enhances our students' learning experience.
| | | | | | |
| --- | --- | --- | --- | --- | --- |
| | | YEAR 3 | YEAR 4 | YEAR 5 | YEAR 6 |
| | SCIENCE | | | | |
| | RELIGIOUS STUDIES | | | | |
| | LANGUAGES | | | | |
| | MUSIC | | | | |
| | STRINGS PROGRAM | | | | |
| | CHORAL PROGRAM | | | | |
| | BAND PROGRAM | | | | |
| | DANCE | | | | |
| | VISUAL ARTS | | | | |
| | PHYSICAL EDUCATION | | | | |
| | OUTDOOR EDUCATION | | | | |
---
Learn about our enrolment process
St Mary's is all about girls discovering their best. We want our students to be engrossed in the exploration of ideas, to be self-motivated and self-directed, to delight in trying something new and to contribute positively to the community.