Wearable Art cultivates creative community
---
POSTED May 5 2023 , News
For more than 20 years, St Mary's Wearable Art program has provided students with a forum to push the limits of their creativity, hone their artistic skills and, ultimately, bring to life figments of their fashion- forward imaginations. In Term 3, the girls are afforded an opportunity to showcase their eye-catching creations at the School's annual Creative and Performing Arts Festival (CAPAF).
After months of toiling away in relative secrecy, they get to don their garments, strut their stuff on the main stage of the Lady Wardle Performing Arts Centre and revel in the admiration of their classmates. It is not only a highlight of the festival, but the entire school year.
In 2022, two students, Bernadette and Ruby, invited us to document their Wearable Art journey. The innovative duo provided some fascinating insights about the processes they undertook to conceptualise and construct their outfits. However, the biggest takeaway from our discussions with Bernadette and Ruby was that Wearable Art is much more than a setting for students to express themselves creatively – it is a community.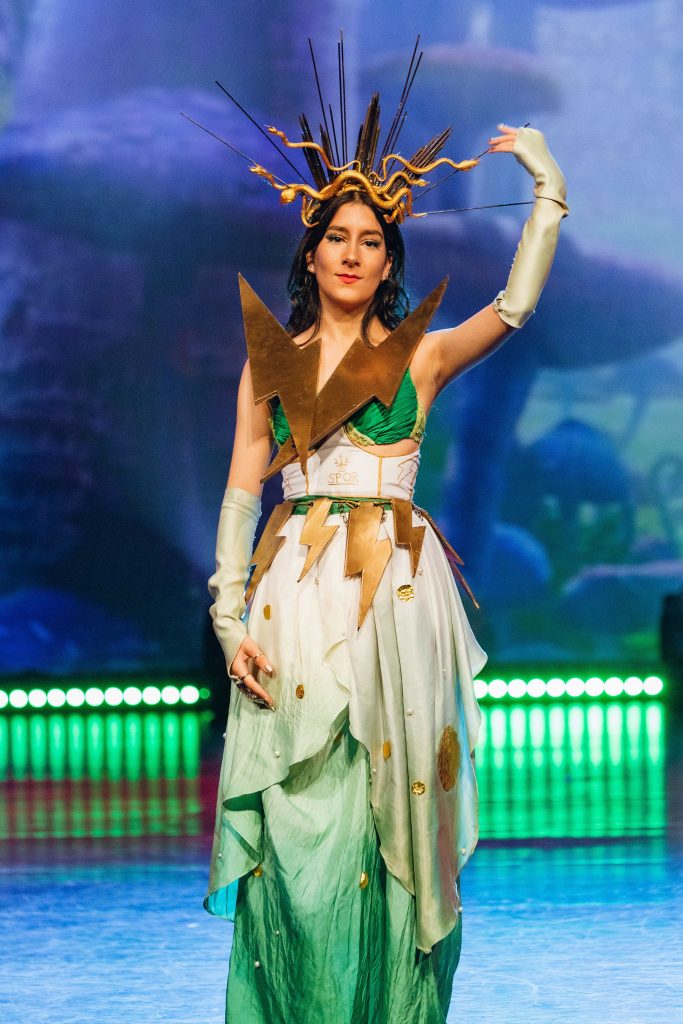 Last year was Bernadette's third in the Wearable Art program. She could not wait to sign up after witnessing her first Wearable Art parade at CAPAF and now it is a staple of her cocurricular diet.
"I was inspired by previous Wearable Art showcases. There was one year in particular when a student had a lantern costume with a big fan at the back and I thought that was amazing. It was so well made and it really inspired me."
Each year, the Wearable Art students work to a theme set by Mrs Maria Pleasance, who has been coordinating the program for the past 11 years. Bernadette had often pondered portraying the Greek gods in one of her garments, so she could not have been more excited when the 2022 theme was revealed to be Art in Literature.
"The inspiration for my piece was Percy Jackson and the Lightning Thief. I started by making a storyboard, which involved taking pictures from the internet and magazines, and then I sketched random designs to put all my ideas down on paper. I narrowed them down before settling on a final design.
"The top half of my costume is inspired by mermaids, my headpiece is based around Medusa, and then I featured a lot of gold, because gold jewellery is prominent in Greek history. I developed patterns to design the skirt and I pleated fabric to create the top half and used ribbon to cover up straps. With the belt of the costume, I used a technique I had never heard of before called worbla, which an Old Girl, Catherine Shepherd ('19), taught us. I was experimenting with wire for necklaces and used a lot of hot glue; I trialled a lot of techniques to bring it together."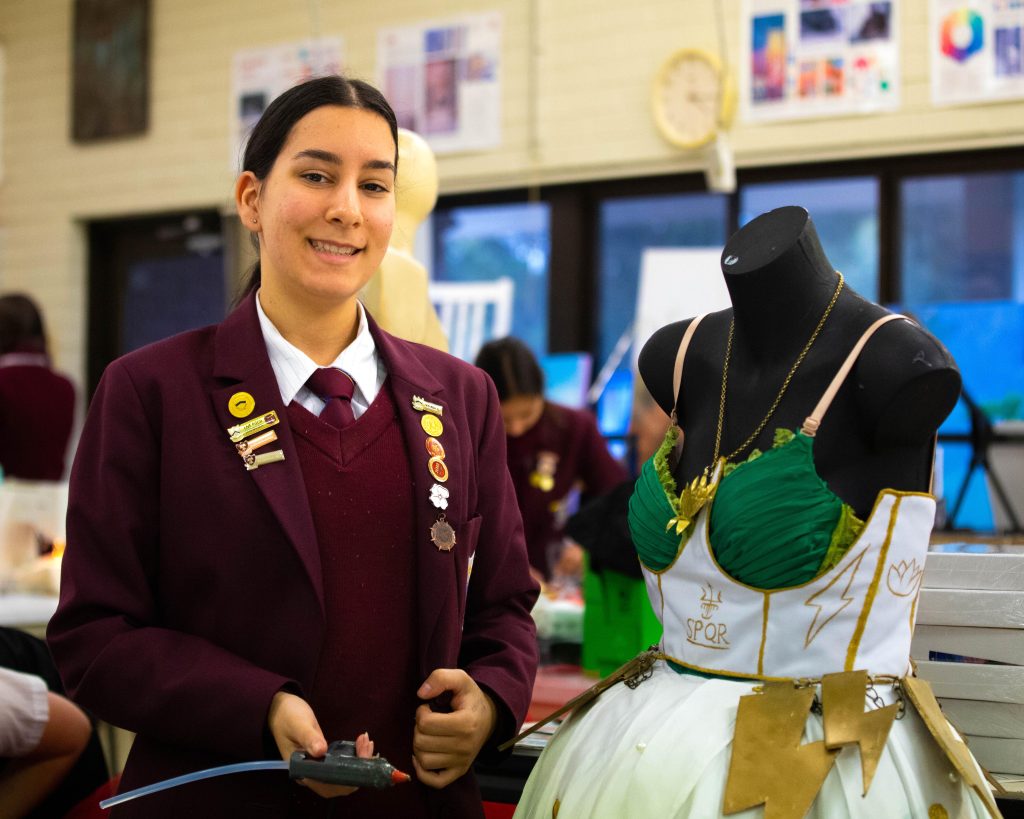 Bernadette loved the creative freedom that she was afforded in the Wearable Art program.
"The most enjoyable aspect of the program is making something from scratch. You can make whatever you want and showcase it to the entire Senior School on one day, which I think is really cool.
"You are able to express yourself in any way you want and on the final day, you are showing it to all your peers. It is really amazing on that day when it all comes together and you get to showcase your costume."
She also spoke to the sense of community and camaraderie that was fostered in the program.
"I think what makes the Wearable Art program so special is everyone coming together and everyone making something they absolutely love. Everyone receives so much support, no matter what they are making. No matter how difficult it might be, everyone is there to help you. It is so great
"It is the main thing that I look forward to every year and I think it is going to be the thing that keeps me going in 2023."
Unlike Bernadette, who is a seasoned Wearable Art campaigner, Ruby was a newcomer to the program last year.
"The Wearable Art program appealed to me because I just cannot get enough of art. I do all the electives, so I thought why not do some cocurricular art too?
"I have sat in the audience for the past two years and I was just like, 'whoa'. It just looks so
cool."
While many students choose to build mesmerising gowns, Ruby elected to go down a different path with her debut garment. Drawing inspiration from a book titled Dangerous World, which focuses on a central character who channels her struggles into street art, Ruby set about creating a modern, edgy costume.
"I had my heart set on a street art piece from the outset," Ruby said.
"The piece went through quite an evolution. I felt confident with the art side of things, but constructing the costume was a bit more challenging. I leaned on girls who had been in the program for a while, and Mrs Pleasance. My skirt was originally satin, so I dyed it and graffitied it. I embroidered my top and put wool and other materials in there and then I stitched over it. The top was a combination of wire and beads.
"I think my wearable art piece was quite unique because although it sat in a genre of gothic and horror, it was a big splash of colour."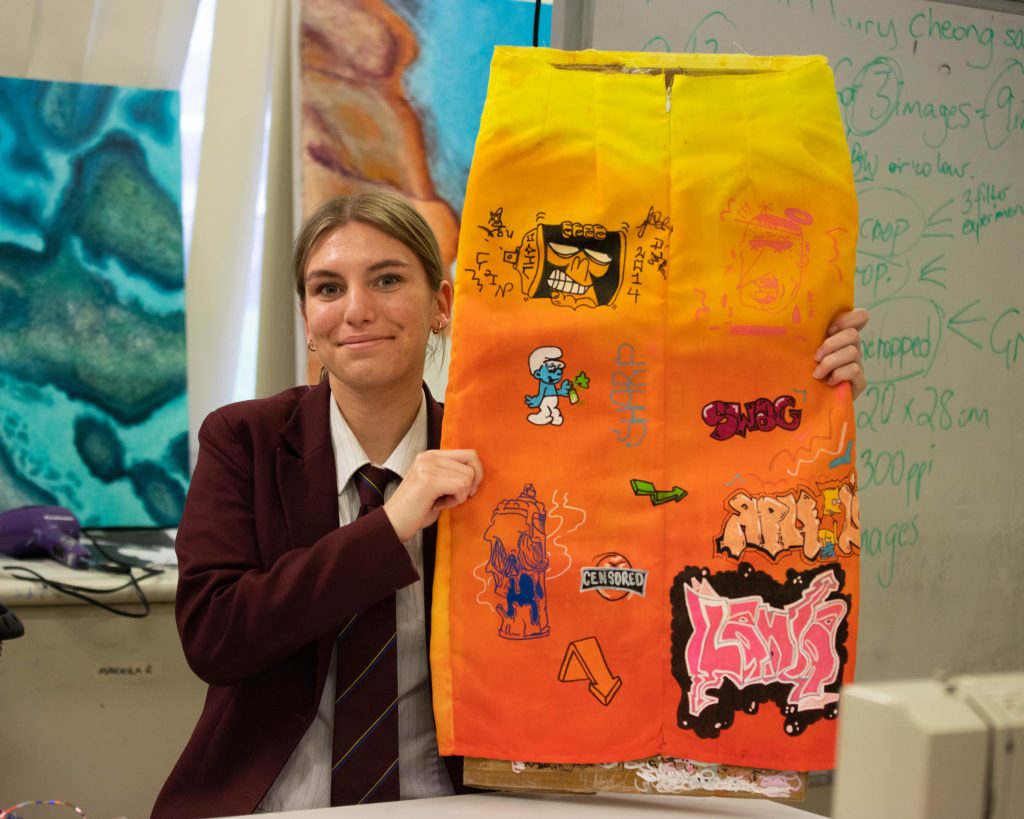 As chuffed as she was with her garment, Ruby admitted to being racked with nerves before taking to the stage for the Wearable Art showcase at CAPAF.
"I was very nervous, but once I had been on the stage for 10 seconds, I just told myself to embrace the moment. It would have been a waste of all my hard work if I was scared the whole time. That helped me to calm my nerves and be bold on stage.
"When you are standing there in front of your whole school in something you have created it is just an incredible feeling. You really feel like you have accomplished something."