Settling in at St Mary's
---
A Look Inside Day
Every year we invite girls in Years 4 to 6 who are considering boarding at St Mary's to join us for our Look Inside Day. This is a fun and relaxed day designed to give girls a first-hand experience of our boarding school and boarding house environment. The day varies each year, but experiences include science and art activities, lunch in the dining room, a swim in the pool and seeing a Senior School drama production. Our senior boarders join us for the day to share their experiences with attendees.
If you would like to attend our next Look Inside Day, please email enrolments@stmarys.way.edu.au
St Mary's Onboarding Program
The St Mary's Onboarding Program is designed to help incoming boarders familiarise themselves with key boarding house staff, existing boarding students and other members of the School community before they begin their journey at St Mary's. It also provides the girls with opportunities to connect with their future boarding peers through fun and engaging activities in an online setting ahead of orientation in October.
How does it work?
The St Mary's Onboarding Program is centred around a series of five online catch-ups, which are held every three weeks from the beginning of Semester 2.
The online catch-ups include:
A meet and greet with St Mary's Head of Boarding Kellie Douglas and the School's Year 12 Senior Boarder.
A catch up with several current Year 7 boarders, who will discuss what it was like moving into Anne Symington House and answer any questions from our incoming boarders.
An introduction to Boarding Academic Support Coordinator Sophie McCann, who will detail what academic support our boarding students receive and how it is structured.
A catch-up with Head of Year 7 Judy Lague and Associate Dean of Students (Years 7 to 9) Megan O'Leary, who will provide a glimpse into what life at St Mary's is like as a Year 7 student and discuss how our boarders are supported in the day school.
A meet and greet with Associate Dean of Cocurriculum Jennifer Patriquin, who will share what cocurricular options are available to the girls at St Mary's. Head of Boarding Kellie Douglas will also provide information about the boarding house's lively recreational program.
Perth Pal Program
We pride ourselves on welcoming your family into our boarding community, even before your daughter commences at St Mary's. It all starts with our Perth Pal Program, which connects new boarders with a day girl and her family. Your daughter's Perth Pal family will introduce themselves via an email before you meet in person at our Orientation Day. In Term 1, your daughter will be invited to a sleepover at her Perth Pal's house and in Term 2 your daughter can invite her Perth Pal to a sleepover in the boarding house. The program helps girls and their families settle into our school community.
Big Sister, Little Sister Program
Our Big Sister, Little Sister Program ensures that each new Year 7 and 8 boarding student is paired with an older boarder, who acts as a friend and mentor as she begins her boarding journey with us. Our 'big sisters' and 'little sisters' form strong connections which provide them with an important foundation for boarding life. The program includes a variety of activities and outings each term.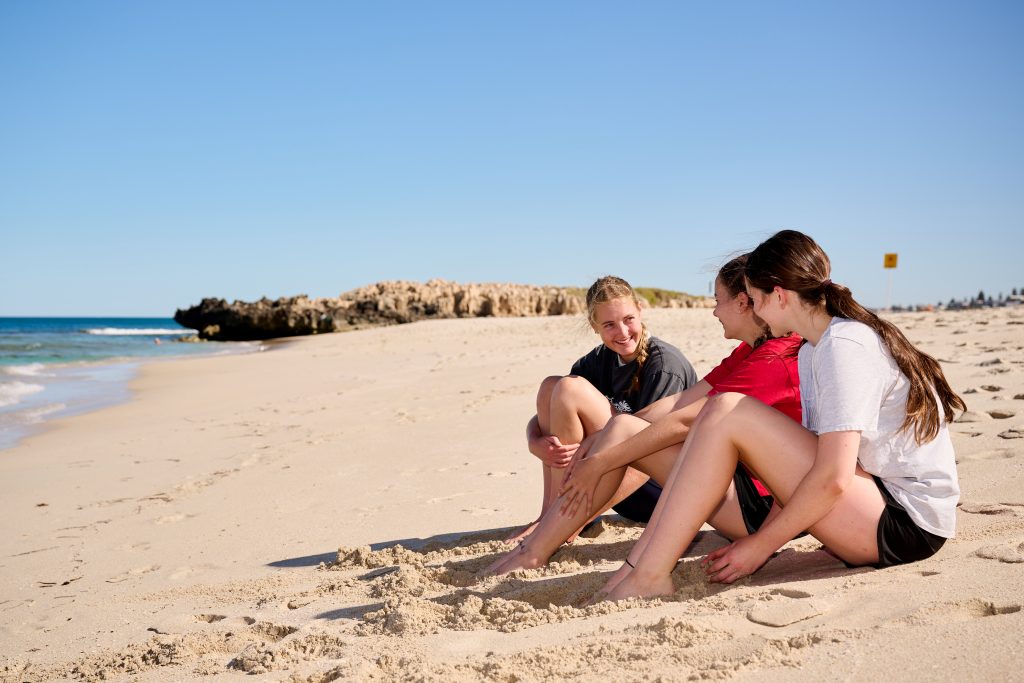 Recreation Program
Providing opportunities for your daughter to participate in co-curricular and social opportunities is a vital part of our boarding recreation program. Our staff work with our boarders to develop a vibrant and engaging recreation program, which is distributed to the girls and their parents at the beginning of each term. The program makes the most of the School's coastal location, expansive campus and enviable facilities. The girls enjoy frequent outings to nearby Trigg Beach, relish bike rides around the campus' neighbouring Trigg Bushland Reserve and delight in regular visits to the many parks that are located near the school. They also enjoy outings to Adventure World, Rottnest Island and local markets and participate in activities including ice skating, laser tag, outdoor movie nights, themed dinners and more.
We encourage our boarders to participate in as many sports as possible. They represent St Mary's in IGSSA competitions and participate in local club competitions for sports including but not limited to AFL, cricket, hockey, netball and tennis. Our staff transport the girls to and from club training sessions and matches. Our boarders also have daily access to the School's tennis and basketball courts, gymnasium workout room, and the Sir Thomas Wardle Swimming Pool Complex, which boasts a heated 50-metre pool and dive pool.
Additionally, the girls have after-hours access to the library, IT centre and the School's many music and dance studios. We also encourage our girls to enjoy our spacious, quiet grounds and our much-loved boarders' activity room, where they can bake or sew.
---
Visit our boarding house
We realise that there is no better way to learn more about St Mary's than by paying us a visit. You are warmly invited to view our facilities and find out more about our wonderful boarding program.
To arrange a visit, please contact our Enrolments Registrar on (08) 9341 9121 or via enrolments@stmarys.wa.edu.au