Music
---
Music plays an important role in the everyday life of St Mary's and is a feature of ceremony, celebration, worship and leisure. Our music department provides an extensive range of co-curricular study and performance opportunities for girls who simply enjoy music and those aspiring to study music as an ATAR subject in Years 11 and 12.
We offer an exceptional co-curricular music program in a learning environment that fosters musical excellence, as well as a sense of community and inclusiveness. Our music staff are highly talented musicians and dedicated educators; they possess the enthusiasm and drive to create the best musical experience for our girls.
Facilities
---
Our music facilities are among the finest in Australia. The Lady Treatt Centre for Music and Dance boasts five music classrooms and 17 music studios to cater for individual instrumental and vocal lessons. Our spacious percussion room features a comprehensive collection of percussion instruments, while our music library has an extensive collection of orchestra, band and choral music.
Most of St Mary's music concerts and performances take place in our Lady Wardle Performing Arts Centre, which seats 518 audience members and possesses first-class staging, lighting and sound equipment.
Co-curricular music
---
INDIVIDUAL MUSIC LESSONS
Our students can learn the following instruments at school from one of more than 30 specialist peripatetic music teachers.
| | | | |
| --- | --- | --- | --- |
| Strings | Woodwind | Brass | Other |
| Cello | Bassoon | Baritone Horn | Bass Guitar |
| Double Bass | Clarinet | Euphonium | Composition |
| Viola | Flute | French Horn | Drum Kit* |
| Violin | Oboe | Trombone | Guitar* |
| | Saxaphone | Trumpet | Music Theory |
| | | Tuba | Orchestral Percussion |
| | | | Piano – classical, jazz*, contemporary* |
| | | | Song Writing* |
| | | | Voice* |
*Offered in Senior School only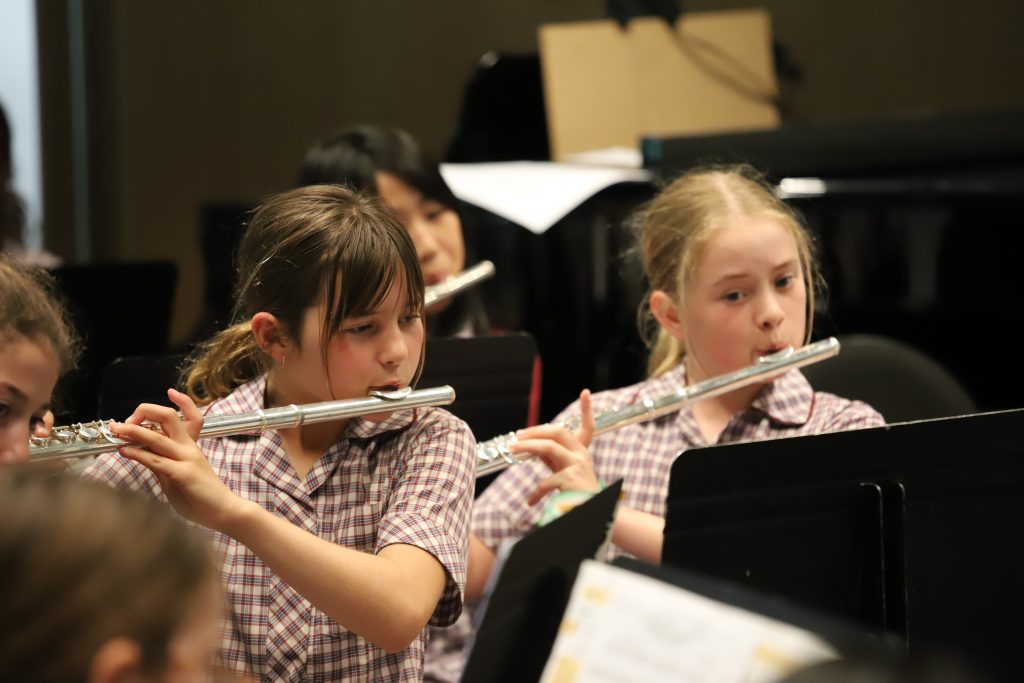 Junior School
All students from Kindergarten to Year 6 enjoy a range of classroom music activities, while our Years 3 to 6 students are offered a variety of co-curricular opportunities to refine and showcase their musical talents.
JUNIOR SCHOOL PERFORMING ENSEMBLES
| CHOIRS | STRINGS | BANDS |
| --- | --- | --- |
| Years 3/4 Choir | Giocoso Strings | Junior School Concert Band |
| Years 5/6 Voices | Academy Strings | Junior Jazz Band |
| Year 5/6 Chorale | Chamber String Group | |
Senior School
SENIOR SCHOOL PERFORMING ENSEMBLES
Our Senior School ensemble program is the perfect pathway for students seeking to develop and hone their instrumental skills.
CHOIRS
STRINGS
BANDS
JAZZ
OTHER
Year 7-8 Voices
Sinfonia Strings
Year 7 Beginner Band
Jazz Band
Rock Bands
Year 9-12 Voices
Senior Strings
Concert Band
Big Band
Contemporary Bans
Magnificats
Chamber string groups
Senior Concert Band
Jazz Combo
Chamber Ensembles
Hi Fidelity
Chamber wind groups
Swing Writers Club
Music Scholarships
---
St Mary's offers several scholarships to outstanding Year 7 and 8 music students by way of audition. Instrumental bursaries are also offered to deserving students, providing free tuition and an instrument for the duration of the bursary. For more information about our music scholarships and bursaries, please email music@stmarys.wa.edu.au
---
Learn about our enrolment process
St Mary's is all about girls discovering their best. We want our students to be engrossed in the exploration of ideas, to be self-motivated and self-directed, to delight in trying something new and to contribute positively to the community.