Boarders' upbringing influences lauded artwork
---
POSTED August 17 2023 , Boarding, News, Senior School
Denby Smith happily admits that she is not your stereotypical 'farm girl', but her intrigue with the profession and creative skills recently propelled her to an impressive artistic feat.
The Year 11 boarding student, who hails from Three Springs, which is located more than 300km from Perth, recently received a Highly Commended honour at the 20th Annual St George's Cathedral Art exhibition for her lino artwork, Harvest.
Her lino piece was inspired by two photos captured by her father during harvest at a farm that he manages in Morawa.
"I chose farming as my subject matter because I grew up on a farm. Since moving off the farm last year, I have been really missing it. This project was really nostalgic for me," Denby said.
"I created the piece for our Semester 1 project, for which the theme was 'differences'. My goal was to embrace the differences in light and shade that I could create through a lino piece.
"The photos that I used for the artwork were taken by my dad. They are from the same point in time but taken from different angles. It's of a farm that he used to manage and that is one of his friends atop the grain truck. It was taken on a farm near Morawa."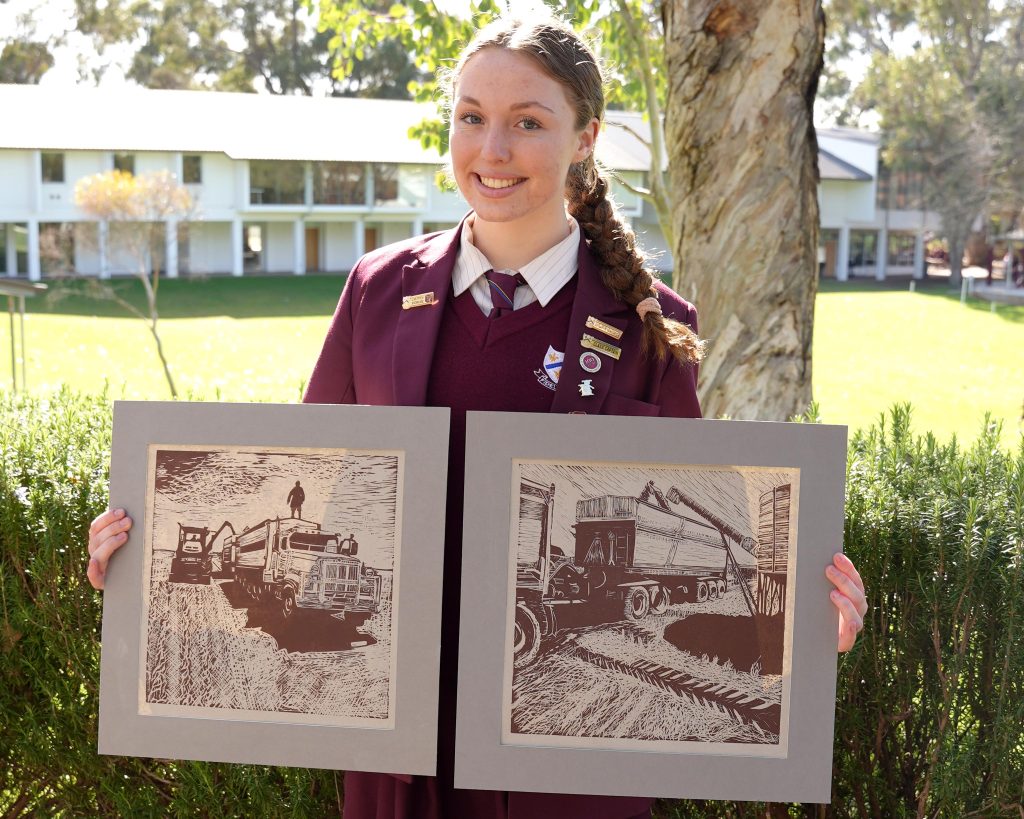 Unbeknownst to Denby, Art Teacher, Giada Dalli Cani, entered her artwork into the 20th Annual St George's Cathedral Art exhibition.
So, as you can imagine, she was somewhat stunned to learn that her piece caught the eyes of the esteemed judging panel.
"I was honoured that Ms Dalli Cani entered my work in the first place. It was such a surprise," Denby said.
"Everyone that featured in the exhibition was so talented, so it was a shock to be recognised. However, it was nice to be appreciated for the time and effort I put into the piece."
Denby is excited to continue her journey in ATAR Art next year and she cannot wait for St Mary's new Creative Arts and Design Centre to open at the beginning of next year.
She believed that the new creative hub would encourage a new wave of artists at the school.
"I feel like there are going to be a lot more opportunities for art once the new Creative Arts and Design Centre opens next year. I think there will be a broader range of stuff that we can do, which is very exciting, especially for my final year at St Mary's," she said.