Early Learning
---
The Early Years
Our Kindergarten to Year 2 students enjoy innovative educational programs in a fun and supportive environment, where we wholeheartedly embrace diversity. Our staff are committed to offering a stimulating, inquiry-based curriculum that helps our girls achieve outstanding educational outcomes.
Our learning assets underpin everything that we do in Kindergarten to Year 2 and our primary focus is helping students develop the following skills:
Communication
Collaboration
Self-management
Thinking
Research
Connection
Our beautiful campus allows our students to learn in exceptional indoor and outdoor environments. We recognise the importance of balancing learning and play, which allows our students to thrive in an inspiring setting.
Connecting with nature
At St Mary's, we believe that nature can inspire learning. Our students regularly venture outdoors to connect with nature and develop necessary life skills, including collaborating with others to achieve common goals.
Our Kindergarten to Year 2 students participate in a regular Nature Play Program, and in Terms 2 and 3 they visit the School's neighbouring Trigg Bushland Reserve on a weekly basis to participate in Bush School. Our Bush School provides our girls with opportunities to hone their problem-solving skills, think creatively and develop a deeper understanding and appreciation of our precious environment. It also offers them a chance to develop their resilience beyond the classroom.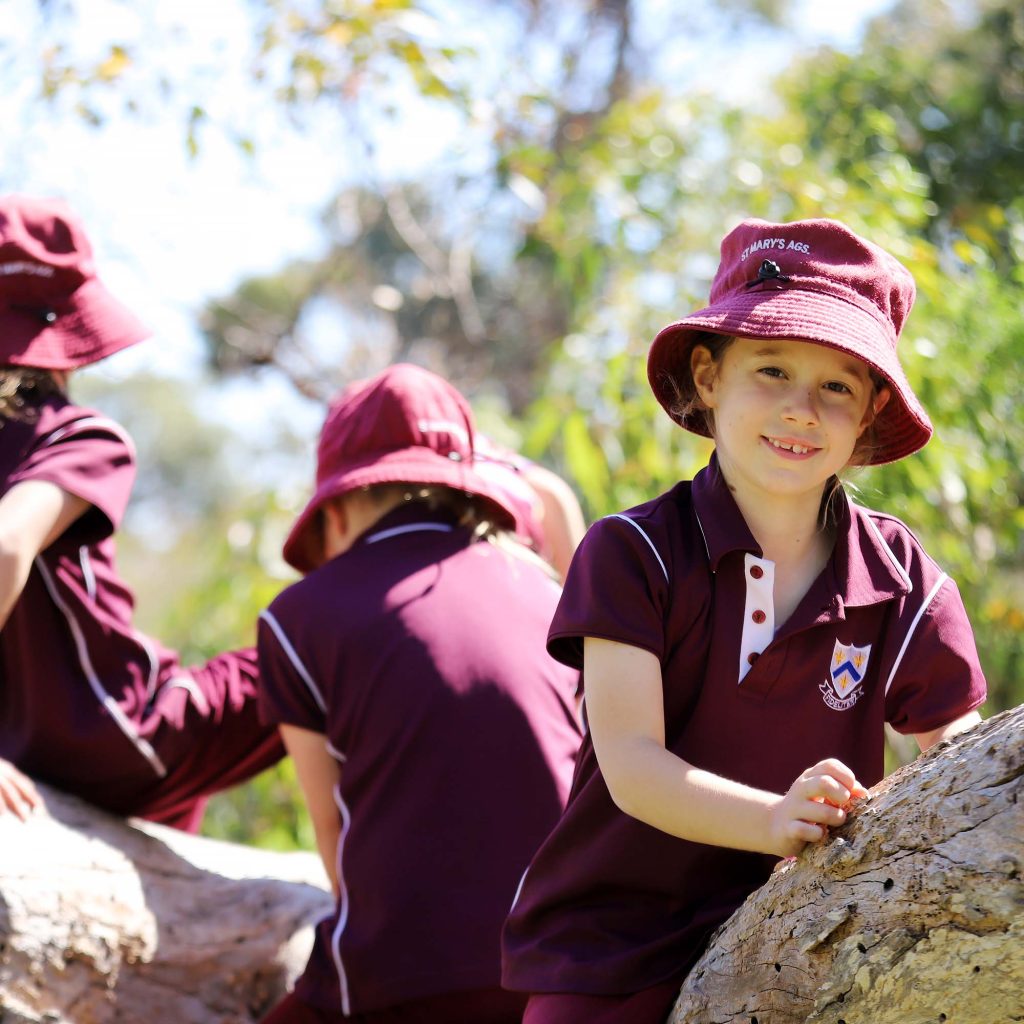 Specialist programs – something for everyone!
---
Our specialist learning programs are taught by specialist teachers who are not the classroom teacher.
Each specialist teacher is extremely knowledgeable and passionate about their subject, which enhances our students' learning experience.
| | | | | | |
| --- | --- | --- | --- | --- | --- |
| | | KINDY | PRE-PRIMARY | YEAR 1 | YEAR 2 |
| | SCIENCE | | | | |
| | RELIGIOUS STUDIES | | | | |
| | MUSIC | | | | |
| | DANCE | | | | |
| | VISUAL ARTS | | | | |
| | PHYSICAL EDUCATION | | | | |
| | OUTDOOR EDUCATION | | | | |
---
Bond Blocks build strong maths foundations
Our top priority in St Mary's Early Learning is to ensure all our students have an excellent foundation in literacy and numeracy. Our students enjoy differentiated reading, spelling, writing, oral communication and mathematics programs designed to support individual student needs. By implementing the latest evidence-based educational programs, our staff are equipped to give our girls the best possible start to their schooling journey.
Award-winning mathematics program
One of these programs is Bond Blocks.
Developed by experienced teacher, Narelle Rice, and renowned Western Australian mathematics education consultant, Dr Paul Swan, Bond Blocks is an evidence-based mathematics system. It's comprised of ready-to-go, sequenced resources designed to develop students' counting and calculating skills.
The Bond Blocks program, which features over 100 sequenced lessons, activity boards and games, was the winner of the 2022 Primary Student Resource Mathematics Numeracy Award.
Bond Blocks is helping to bolster the mathematical foundations of St Mary's Kindergarten to Year 2 students.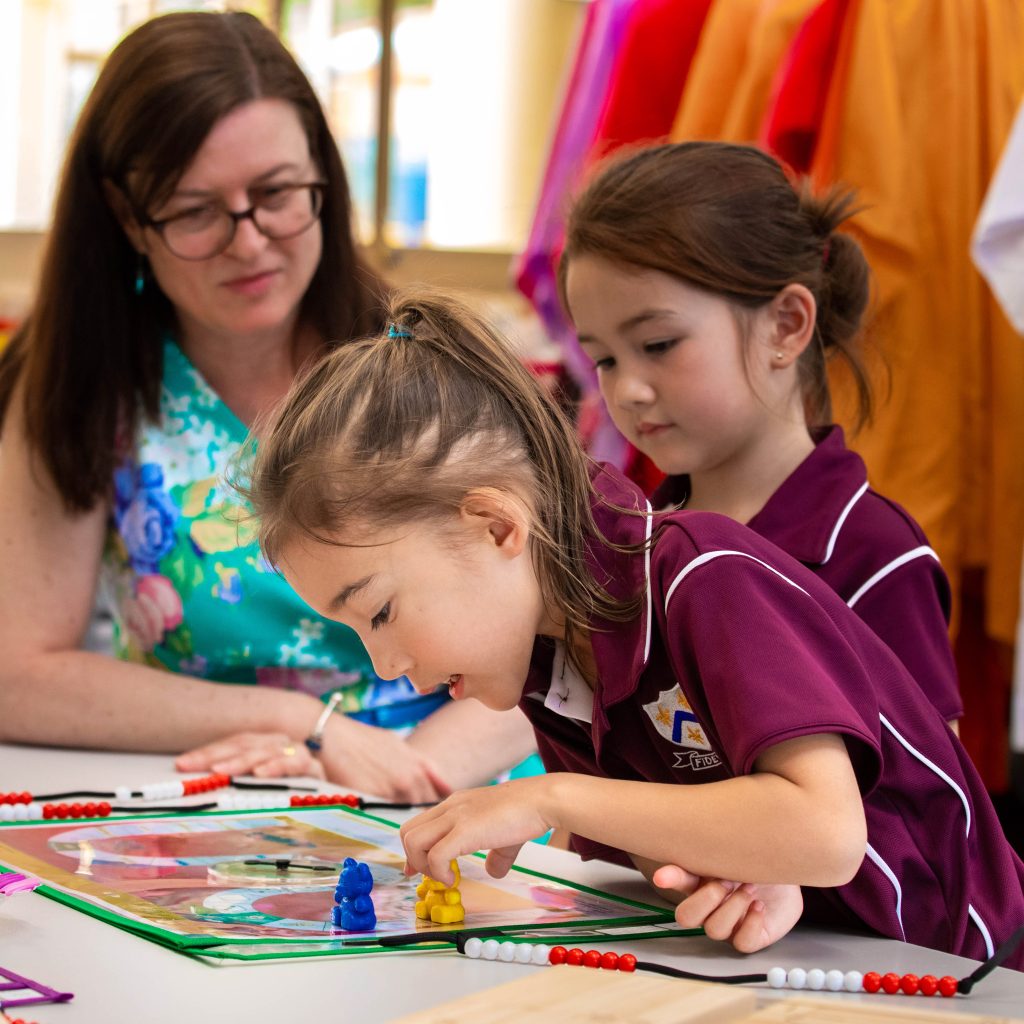 "Providing the missing link"
St Mary's Coordinator of Teaching and Academic Centre of Enrichment (ACE), Mrs Helen Shaw, has been impressed by how Bond Blocks is changing the way Early Years students learn maths.
"We've seen evidence that the program is helping us in providing the missing link, to help students progress from concretely counting by ones to abstractly adding using numbers and symbols," Mrs Shaw said.
"Andrea Dingley, our ACE Numeracy Support Teacher – Early Years, and I have been excited to witness the growing confidence of our students. Bond Blocks is providing them with a way of explaining their mathematical thinking."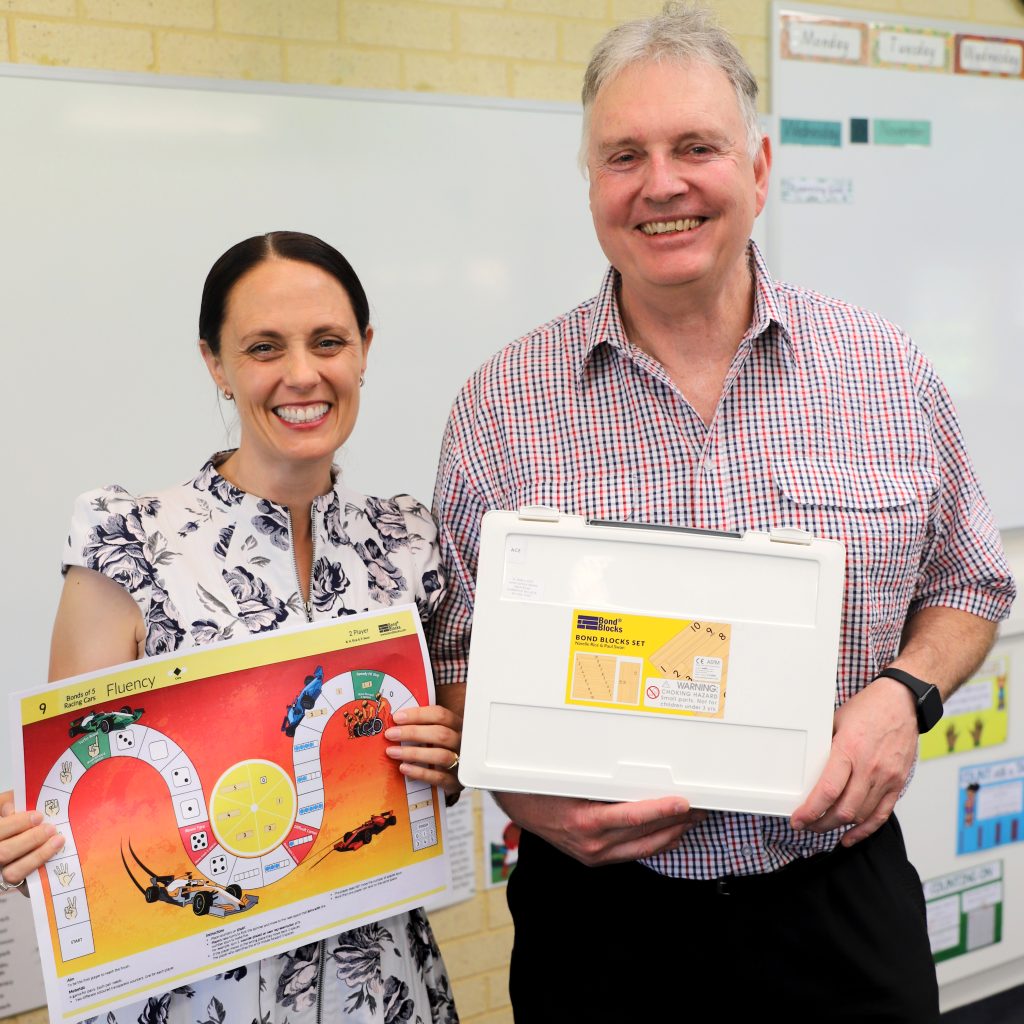 Ongoing support to improve outcomes
Last year, St Mary's Kindergarten to Year 2 teaching staff participated in two intensive days of training with Narelle Rice, establishing a close working relationship with the Bond Blocks founder.
This year, our staff will meet with Narelle twice per term so they can gain maximum value from the program. They will also be supported by the implementation of a data-informed numeracy practice (Plan, Teach, Assess, Analyse and Adjust), to help further improvements in student learning, classroom practice and overall student wellbeing.
"There is compelling evidence that following a Plan, Teach, Assess, Analyse and Adjust cycle will result in improved results," Mrs Shaw said.
"Meeting regularly with Narelle and coordinating fortnightly meetings where teachers will discuss class observations, the 'sticking points' in mathematical understandings being observed and curriculum content, will ensure that our Early Years students are being provided with every opportunity to gain confidence, experience success and enjoy maths."
Learn about our enrolment process
St Mary's is all about girls discovering their best. We want our students to be engrossed in the exploration of ideas, to be self-motivated and self-directed, to delight in trying something new and to contribute positively to the community.