i3 winners tour Bankwest
---
POSTED December 7 2022 , News, Senior School
When I stepped through the doors of the Bankwest building on the 30 November 2022, I couldn't help but feel a number of things all at once:
Awe.
Awe of the building, of all it represented. Awe of the effort and time that had been put into making this lunch a reality.
Pride.
Pride of everything that we had accomplished as a team together throughout the year. Pride for the girls standing beside me. Without them, without their kindness and their hard work, there was no way I would be walking through these doors.
Inspiration.
Inspiration to take our app further, to continue to work and take advantages of the incredible and unique opportunities that St Mary's Anglican Girls' School has to offer, opportunities such as the i3 Program.
And when I gazed at my team, comprised of Charlotte, Emma, Anna and Annie, I knew they were feeling a similar way. Together, we had worked together as a team to embrace and enjoy the i3 Program. We ended the year with not only our app and a win, but each other. That, more than anything else, is what I have gotten out of this program.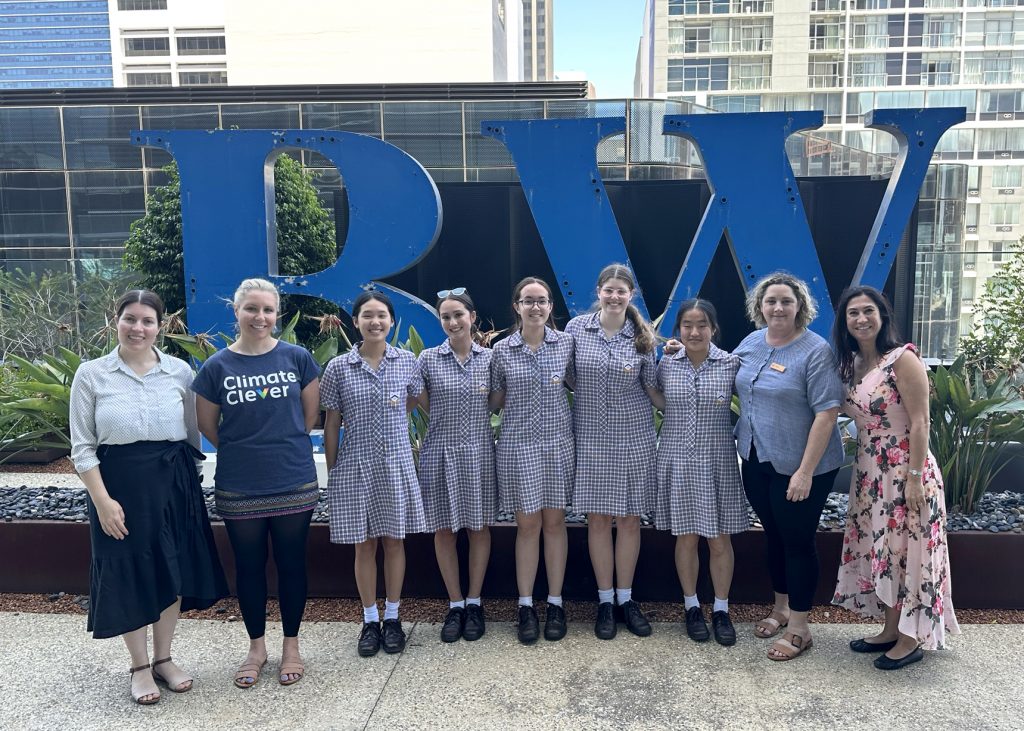 Part of our prize for winning the i3 Program Live Pitch Showcase was a lunch at Bankwest in the city, and we had been looking forward to it all day. We set off, accompanied by Mrs Fitzpatrick, Head of Technology and Enterprise and leader of the i3 Program, and Ms Godinho, Acting Dean Teaching and Learning.
Upon entering Bankwest, we were greeted warmly by Sonia Knox, Executive Manager of Enterprise Agility, and Sam Alexander, the Communications, Events and Sponsorships Manager. We had the privilege of already being acquainted with Sonia, having met her on the previous i3 Major Project Days, and were looking forward to talking with her further.
We started our time at Bankwest by meeting with Dr Vanessa Rauland, an entrepreneur, academic, author, public speaker and founder and CEO of ClimateClever. She spoke at length about her personal journey, her motivation and inspiration for continuing to develop her app, ClimateClever, despite setbacks. She encouraged us to continue to work together and develop our app, Interakt. Despite us not knowing which direction to take next, I know we have an immense amount of support from the School, and from the mentors who believe in us as a team. She helped me realise that all we need to start is a fundamental belief in our idea, and when she finished, we all looked at each other with the same thoughts and emotions: awe, respect and motivation. Dr Rauland's passion was something that I aspire to have for our own app.
During our delicious lunch, we had an opportunity to speak with Dr Rauland, our mentor Smitha, and everyone else who had put in the time and effort to come and talk to us. It was truly an experience that we will never forget, and something that we will recount often in the future when we feel lost.
We ended our afternoon by taking a quick tour of the building with Bankwest's first year grad students. They were thorough in their tour, explaining different aspects of each floor. The thought that had gone into designing the productive and simultaneously aesthetic spaces was evident and by the end of the tour, we were all ready to move into the building permanently!
As we said our final goodbyes and headed back to school, we felt overwhelmed by the generosity that had been shown to us by Bankwest, Sonia and Sam, Mrs Fitzpatrick and the i3 Program teachers, and Dr Rauland. We went into the building with a tangle of emotions, but we left knowing one thing for certain: the i3 Program had given us this opportunity. Throughout the program, we had discovered parts of ourselves that we did not know existed. We had pushed each other as people and learnt so much about what we can do when we all work with each other, instead of against each other.
We will treasure all we have learnt throughout the i3 Program and apply it to future aspects of life. And for this knowledge – for the hard work and determination required to allow this program to run each year – we are truly grateful.
Lilia
Year 10