St Mary's Women: Lucy Lönnqvist ('21)
---
POSTED June 20 2022 , Old Girls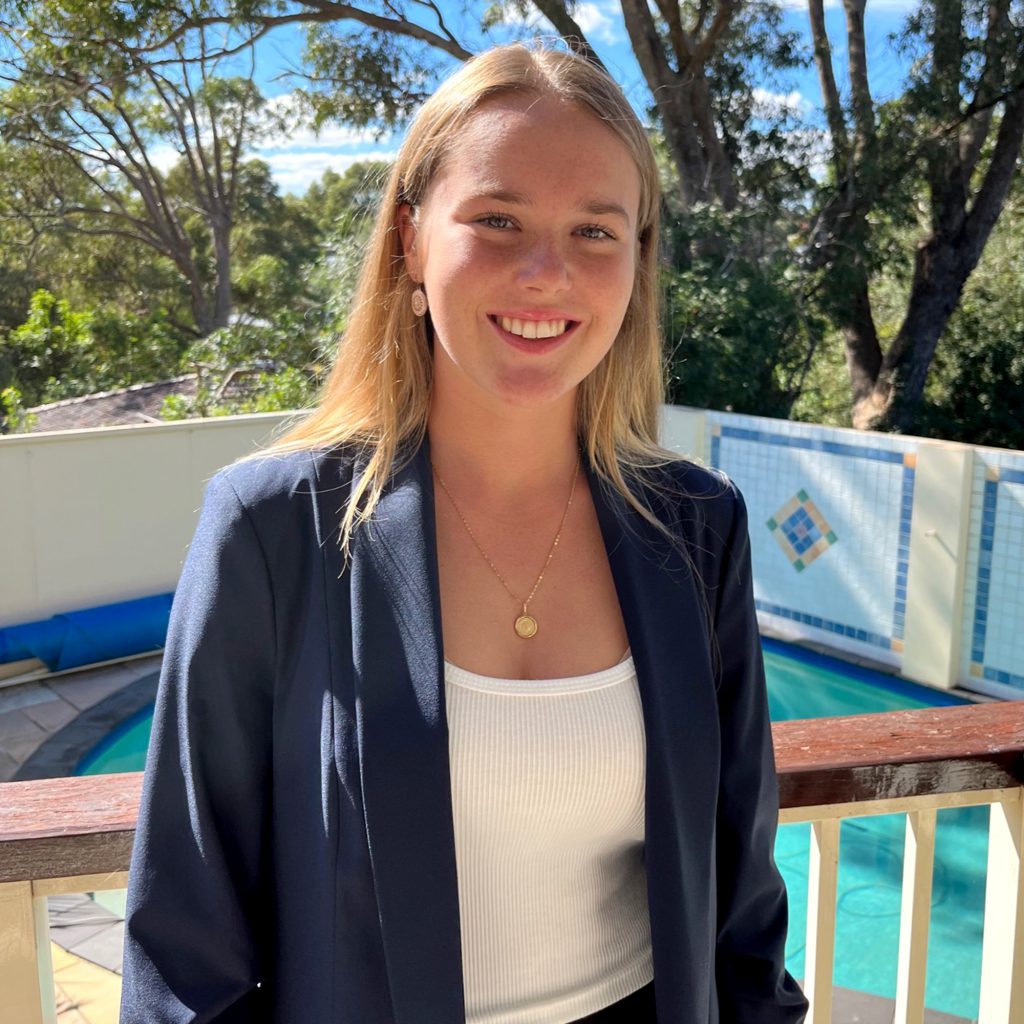 What is your fondest memory of St Mary's?
My fondest memory of St Mary's was the early morning swimming sessions held before class that you could attend with your friends. Those swimming sessions were something that stayed constant from the beginning of my time in Year 6, all the way through to year 12. I've never been a competitive swimmer but have always enjoyed the sport as an outlet from school to keep fit and would look forward to the summer season every year, because it meant that my friend Ally and I could splash around in the St Mary's pool for an hour or so before class started. The morning swim sessions were the perfect way to start the day of school off on the right foot and provided a capacity for students from different year groups to engage with each other.
Reflecting on your time at St Mary's, what do you feel was the most influential part?
The most influential factor during my time at St Mary's would have to be the teacher support. The School is very fortunate to have a team of relentlessly dedicated and passionate staff members, who underline the warm and uplifting energy that is the St Mary's community. As a student of St Mary's, I looked up to my teachers as respected people that I wanted to impress. I always felt personally valued as an individual student, by every one of my teachers, because they took genuine concern to each of our diverse needs; they were there to push us further when we needed to be extended and listen to us when we wanted someone to talk to. And as a student, to be settled in the knowledge that your teachers have your back, is one of the most reassuring feelings you could ask for. In return, I felt inspired by them do to everything within my power to excel in their courses.
I have fond memories of being in every one of my teachers classes, which will stay with me well into the future. You can always count on the St Mary's staff to keep you on your toes, making classes unpredictable, lively and dynamic, even in the midst of exam season. I had the comfort of knowing that if I approached any of my teachers with a question, they'd drop whatever they were doing to help me out – nothing ever seemed to be a burden for them, and it makes each student feel like an appreciated member of the school. There were some teachers I'd never had before, but they would go out of their way to greet me or give me a smile of acknowledgement. On those days where the workload was weighing you down, it was small gestures such as these that spurred you on as a student and reminded you how grateful you are to be part of a school that really cares.
If you could tell your 'Year 12 self' anything, what would it be?
If I could give my Year 12 self a piece of advice, it would be to not let the power of hindsight hinder your present productivity. One of my biggest regrets in Year 12 was focusing too much of my attention dwelling on what more I 'could have done' – whether that was in preparation for a test, exam, a leadership project or a uni application. I was often caught in the cyclical thought process of 'if I hadn't of done that, then this wouldn't have happened', which can be quite a damaging mindset to fall into when you're still confronted with the ongoing flow of assessments in Year 12.
I am quite a reflective person, I often muse over my actions and I am constantly assessing whether I am doing enough, what I should have done, or what I should be doing more of, in order to better prepare myself for next time. And while hindsight is beneficial in that it allows you to reflect on past actions so you can find a better way to go about a choice in the future, throughout year 12 I learnt that hindsight can be awfully destructive to your ability to move forward after a setback. I fostered this misconception that everything in year 12 had to go as planned, because it was 'the year that counted', my final year of school and I had worked relentlessly hard in my lower years to set year 12 up to be 'the perfect year'. After failing the first maths test of the year and not performing as well as I had hoped in other assessments, I quickly realised the year wasn't going to go as planned. My mind became clouded with a pessimistic outlook for Year 12, thinking that I wasn't going to be able to academically redeem myself from my results, and that I now wasn't going to achieve my goal ATAR. This was an extremely dramatic response at the time; but I wish someone had told me that I had room to redeem my scores in year 12, that a couple of 'off results' weren't going to redefine my ATAR, and that I had room to pick myself back up.
In light of this, my best advice for Year 12s would be to not set idealistic expectations on yourselves or your vision for how the year will pan out just because it's your last year of school. While its healthy to reflect on your actions and decisions on what you could have done better for next time, there comes a point where you need to pick yourself up and get on with it rather than muse over an event or score that's in the past and done with. It's important to always seek ways you can improve your habits or choices; however, in Year 12 I learnt that the best way to do that is by looking forward, rather than back.
What advice would you give to current students?
My best advice for students at any stage in high school would be to throw yourself into the myriad of extra-curriculars St Mary's has on offer and to proactively engage yourself with other students and the outside community. School is the chance in your lives where you're given free rein to discover your forté – the place where you naturally shine. We all have one. Some find it early, for others the discovery is more difficult. We are all very fortunate to be able to attend a school that goes above and beyond to equip students with the tools we need to set us up for life. Whether that's in sport, performing arts or academia, the opportunities St Mary's has on offer covers all bases. My message is to encourage students to not take these opportunities for granted. School is the time to experiment with your passions, hobbies and ultimately find your speciality. For me, I found my love for foreign affairs, Parliament, and coding, simply by putting my hand up to give things a try. If there's one thing I've learnt over my time at St Mary's, it's to take on the initiative for yourself, rather than waiting for something to be handed to you. I want students to discover, just like I did, that with the right attitude, the teachers and resources St Mary's presents to us will push you beyond what you thought you were capable of.
What have you been doing since leaving St Mary's?
After graduating St Mary's, I was fortunate to receive the UWA Winthrop scholarship, which recognises students for the academic excellence, leadership capability, and civic engagement. With the scholarship, I planned on studying a Bachelor of Philosophy, Politics and Economics at UWA for three years, and then moving onto complete my Juris Doctor (law degree) for a following two years. While I was extremely humbled to be a recipient of this prestigious scholarship, I had also worked towards applying for my long-standing dream university, SciencesPo, an internationally-renowned university based in France, specialising in the fields of humanities and social sciences; it is ranked second in the world for the study of international affairs.
During the summer holidays of 2021/22, I spent my time drafting and refining several essays as part of the application process. It took me a good two months of researching, writing, editing, and re-writing before I deemed my application fit enough to submit. In the meantime, while waiting to hear back from SciencesPo with an admission response, I continued working practically full time at a French restaurant known as Chez Pierre, in the hope of improving my French so that I could support myself financially. I was also selected to be a part of the Dean Margetts Football Umpiring Development Squad. I began pre-season umpiring training, which involves completing a rigorous running training schedule and coaching sessions, to get umpires fit and ready to tackle the season ahead.
Why did you choose your study pathway?
I chose to study at SciencesPo for its multidisciplinary approach to education, globalised classrooms, and emphasis on civic engagement alongside your degree. The first aspect of SciencesPo that grabbed my attention was the opportunity to academically enrich myself across a broad range of humanities subjects that I would be able to study concurrently, those being: Economics, History, Law, Politics and Sociology, as well as the chance to accompany these subjects by specialising in the study of a specific continent of the world. The way the SciencesPo Undergraduate College works is that while the uni is based in Paris, there are seven additional undergraduate campuses spread across France, each specialising in a different global region. I applied to the Middle East and Mediterranean Campus, located in Menton, a city situated between Monaco and the Italian border, in the French Riviera.
I chose SciencesPo's Menton program as I am fascinated by the complex diplomatic dynamics between Europe and the Middle East. I am particularly intrigued by how one of world's most ancient civilisations, constituted on a religious basis, has transformed itself into a region affiliated with the rapid increase in nuclear power generation, sectarianism, and an oil-driven political agenda.
Having grown up in Perth all my life, known as being the most isolated city in the world, I was looking for a university that offered a large degree of exposure to the broader international community. Upon reflecting on my strengths and shortcomings as an individual from a holistic perspective, I recognised that in order for me to emerge from my tertiary studies as a meaningful contributor to the global community, and fulfil my dream career as an Australian Diplomat, I needed to develop a more internationalised outlook on the current humanitarian plights confronting society. A large appeal towards SciencesPo was that they host over 150 nationalities represented by students on campus, and recognises that in today's age of global interdependence, there is no solution to humanity's foibles that do not require cross discipline enquiry. As such, I wanted to partake in this degree in order to improve my ability to analyse issues in society through the lenses of multiple cultures in hope to nuance my frame of thought.
What are your plans for the future and what do you hope to achieve?
In the third year of an undergraduate degree at Sciences Po, students are required to spend it abroad, outside of France. For me, this means that after two years spent in Menton, in the third year of my degree I am able to choose to attend any of SciencesPo's 500 partner universities spread around the world. I'm currently thinking of spending my final year at the University of Helsinki in Finland, so I am able to re-connect with my Finnish heritage and family over there. I've always had a fascination with the Scandinavian education model and spending a year over there would allow me to experience and discover their systems and techniques firsthand. Alternatively, I may like to continue to delve deeper into my studies of the Middle East by attending a university in the region, such as the University of Lebanon.
Following the completion of my undergraduate degree at SciencesPo, I have direct admission into the Masters Programs based in Paris. I plan on studying at the Paris School of International Affairs for two years, specialising in international security and intelligence. From there, I would like to work as a Diplomat for the Australian Department of Foreign Affairs and Trade. The thought of representing my country's interests in overseas embassies, negotiating trade deals and conventions between nations is something that has always held great appeal to me.
What do you consider to be your greatest personal achievement to date?
I would consider my greatest personal achievement to be my admission into SciencesPo, as a goal that I've worked specifically towards for the last three years of school. I think looking to SciencesPo as my end goal motivated me to really knuckle down during my last few years of school, in the hope that I'd be in with a chance for admission. I feel as though having that goal fairly early in my school journey acted as a guide to help me navigate my last three years of school in regard to my subject choices, extra-curriculars, personal lifestyle choices, and perhaps some of the compromises I made throughout my teenage years to earn my place there. Looking back on the work that I put in to gain entrance to SciencesPo: the early mornings and late nights spent glued to my desk, writing extra practise essays, speeches, re-writing assignments, or completing weeks of work experience in the school holidays, I think what fills me with most pride is managing to push through the lows and pick myself back up, knowing that I would be proud of my efforts at the end of it all. So, while my entrance into SciencesPo may be my greatest personal achievement on the surface, I think getting through those last few years of school to the best of my ability and pushing past the times I felt like giving up brings me greater satisfaction within myself.